British Wildlife Photography Awards - Call For Entries - £15K of prizes - Wednesday, June 10, 2009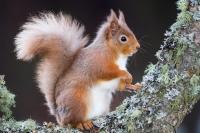 CALL FOR ENTRIES

Up to £15,000 worth of prizes and exposure in a touring exhibition

The prestigious British Wildlife Photography Awards announces the launch of this brand new photography competition.

Established to celebrate and recognise the talents of photographers of all nationalities practicing in the UK, while at the same time, highlight the great wealth and diversity of the natural history in the United Kingdom.
At a time when wildlife, habitat and conservation is to the fore, the awards will encourage photographers, whether professional or enthusiast, to explore Britain's natural and urban environments, and discover its bounty of wildlife species, from birds to mammals; insects to marine life.
Debbie Chapman, Press Officer at WWF comments "By supporting the British Wildlife Photography Awards WWF aims to highlight the incredible sea life surrounding our island, which needs safeguarding for the future".

There are seven main categories to excite the imagination, as well as two special awards to encourage participation by young people, schools and youth community groups.
With a prize fund of up £15,000 and the overall winner receiving a cash prize of £5,000, the images receiving judges' commendations will form part of a series of nationwide exhibitions, including a premier launch and awards event. The exhibition will launch at Hoopers Gallery, London from 24th September 09 and tour several locations around the UK. The British Wildlife Photography Awards aim to set the standard for photography of UK wildlife, for many years to come.

Awards and Prizes
- British Wildlife Photographer £5,000
- Young British Wildlife Photographer (under 18) £500
- Schools, Youth and Community Group Award £1,000


Category Awards:
The winner of each category will receive the following prizes
with a total value of around £1,000.
The award-winning Stylus Photo R2880 A3 + inkjet printer from Epson. Capture One Pro software from Phase One.
Travelite EX 8x25 binoculars from Nikon.

Categories
1. Animal portraits
2. Animal behavior

3. Urban wildlife

4. Hidden Britain
5. Coast and marine
6. Wildlife in my locality
7. Habitat; Animals in their environment. Plants and their partners.

Dates
The competition is OPEN and the closing date is 31st July 2009. Entrants will be able to submit entries on-line or via post.

Further information
For more detailed information about the competition, including how to enter, a full description of categories, shooting tips, and terms & conditions, please visit the competition website: www.bwpawards.org.

Supported by: Natural England, WWF, The National Trust for Scotland, The Wildlife Trusts ,The Woodland Trust and Outdoor Photgraphy magazine.